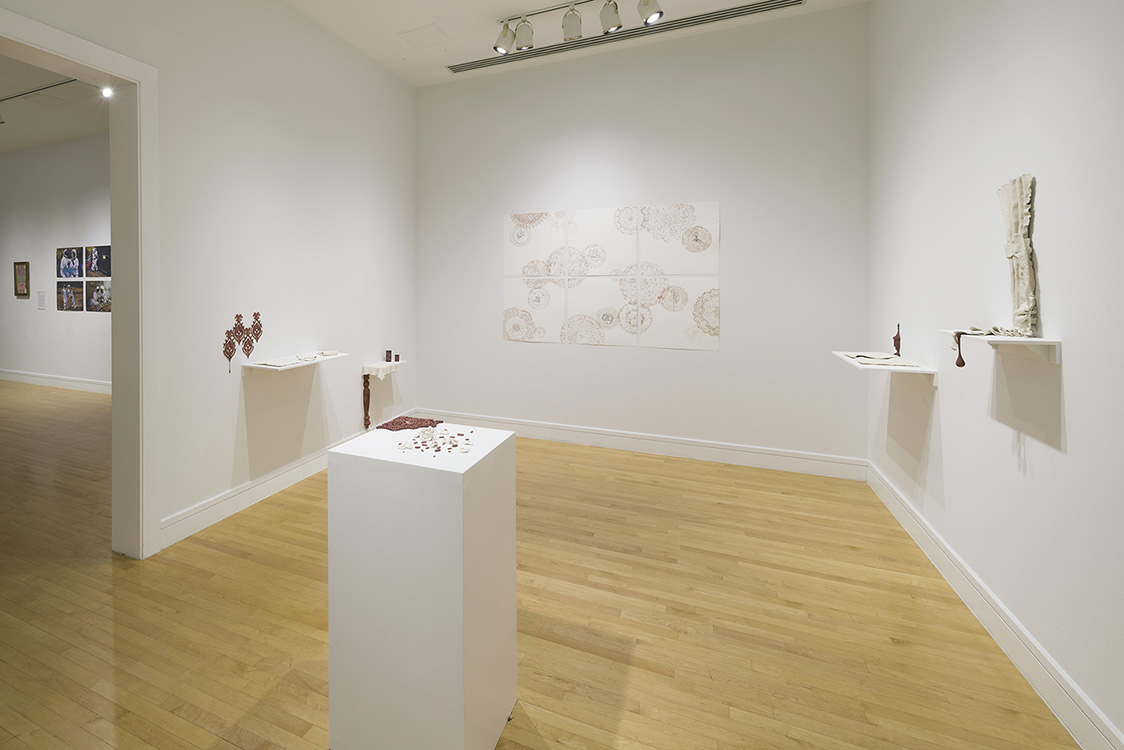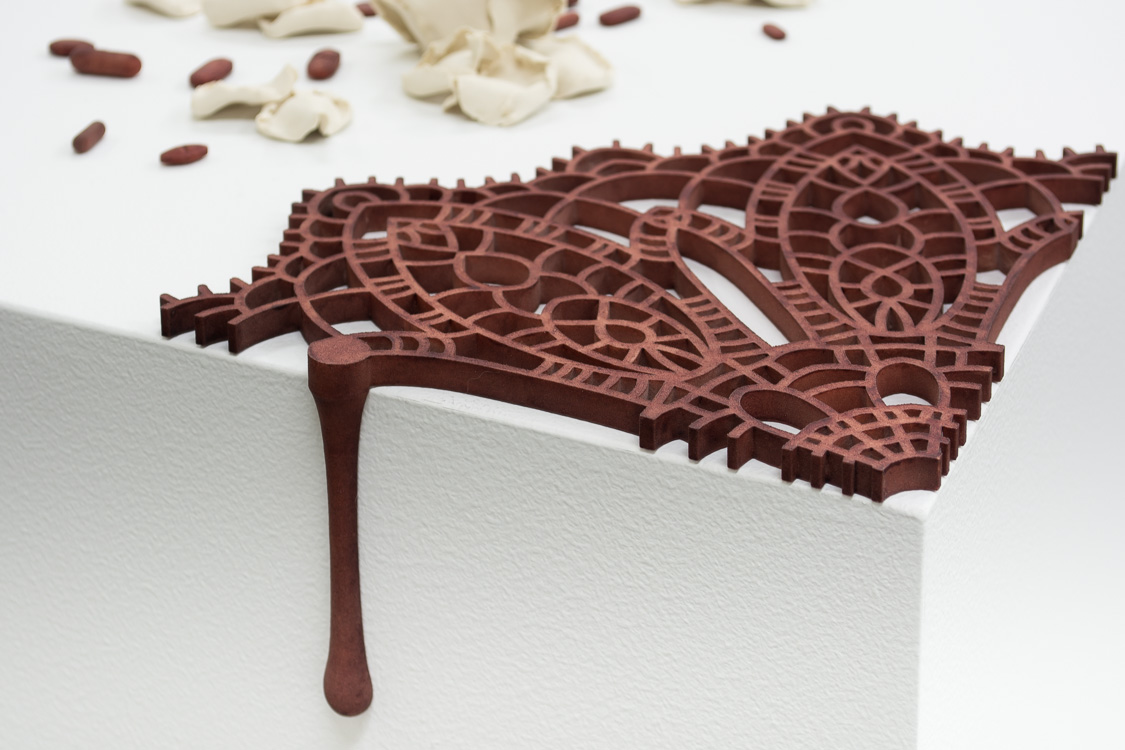 Host
detail of Potpourri
36"H x 14"W x 14"D (pedestal dimensions)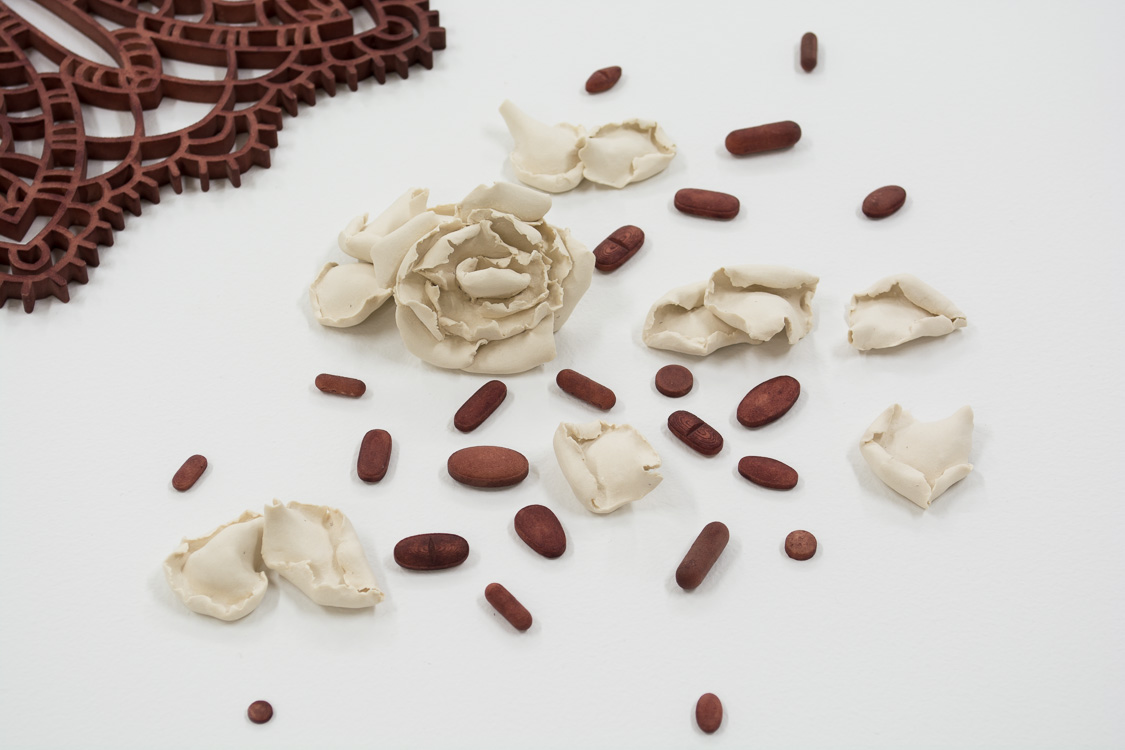 Host
detail of Potpourri
36"H x 14"W x 14"D (pedestal dimensions)
Host
detail of Potpourri
36"H x 14"W x 14"D (pedestal dimensions)
Host
detail of Draped
27"H x 18"W x 7"D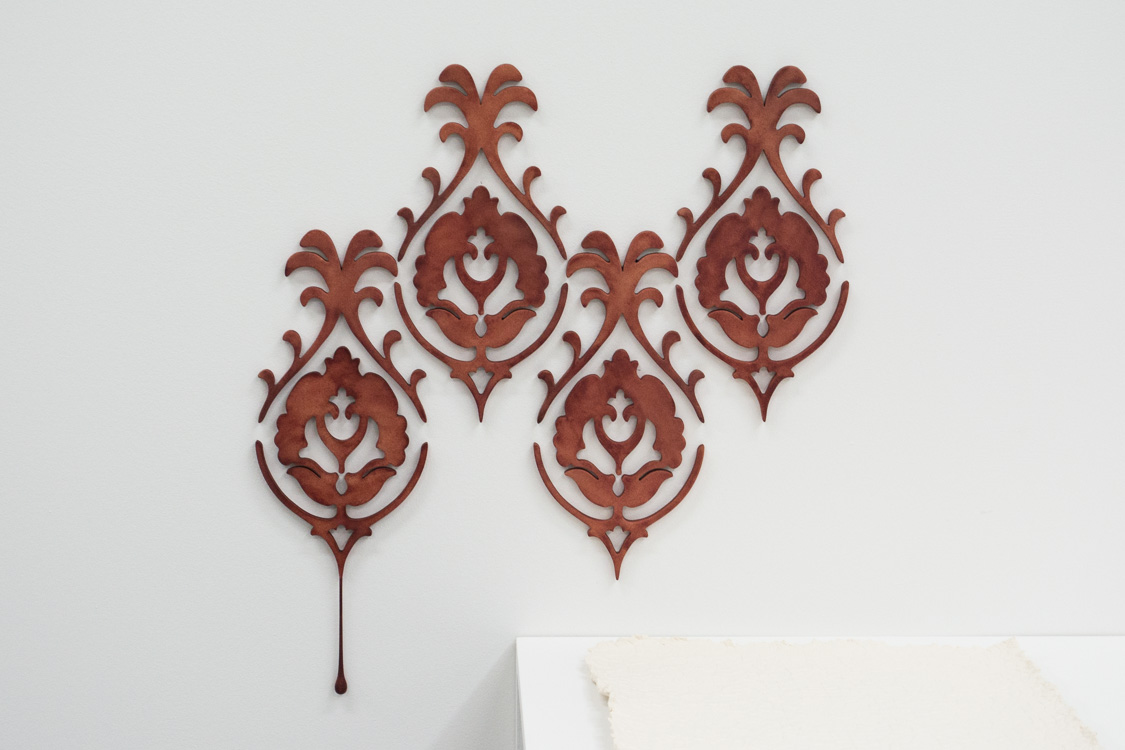 Host
detail of Encoded
15"H x 39"W x 12"D
Host
detail of Encoded
15"H x 39"W x 12"D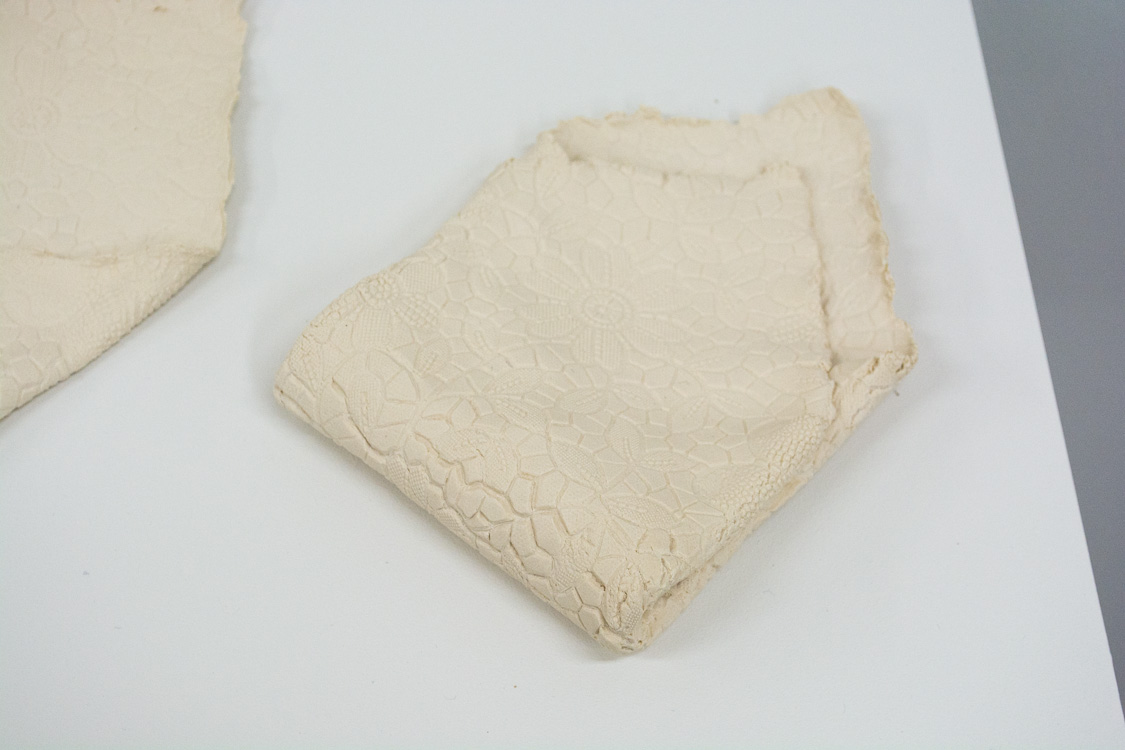 Host
detail of Encoded
15"H x 39"W x 12"D
Host
detail of Curtain
24"H x 12"W x 7"D
Host
detail of Curtain
24"H x 12"W x 7"D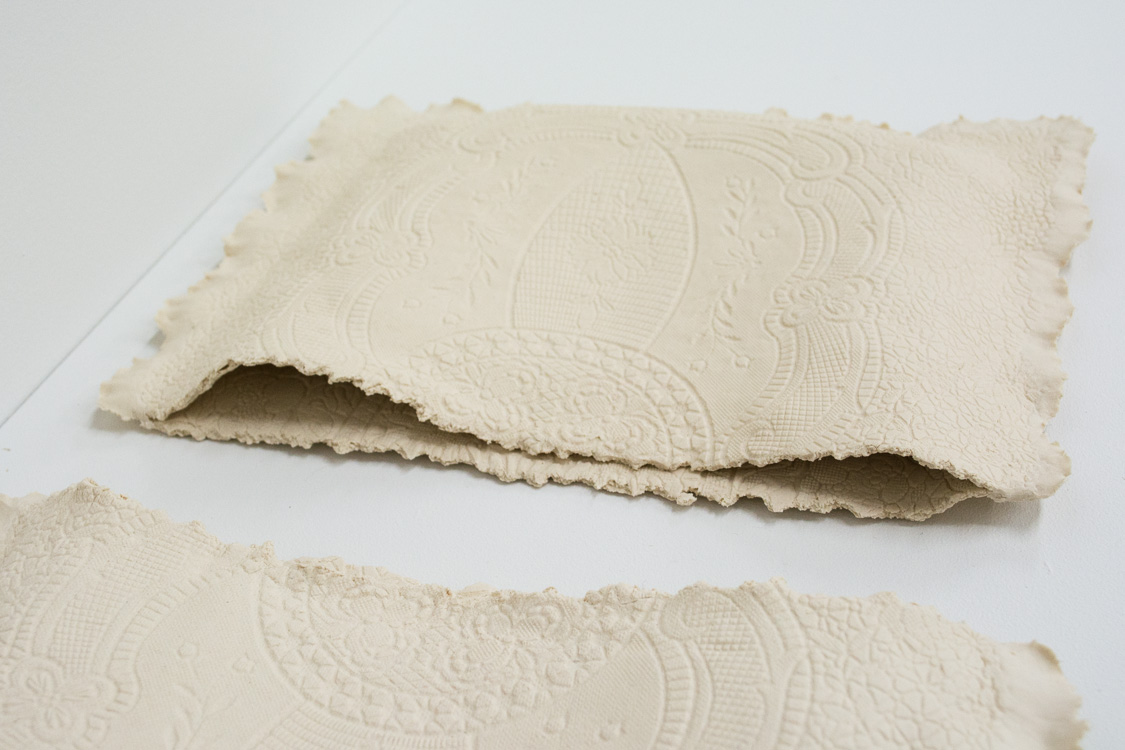 Host
detail of Exhale
8"H x 30"W x 12"D
Host
Thin Veil (AZT)
22"H x 22"W
Surface Tension
video documentation
produced by the CDC Foundation
Surface Tension
installation view at docent presentation
Doilies
PROJECTS: Viral Artifacts
2004
computerized machine embroidered lace
16.75"H x 16.75"W each (framed)
edition of 10 + 2 AP
Doilies re-examines the lace doily as an innocuous domestic artifact that traditionally references motifs from nature. The design of each doily in the series is based on a different viral structure (HIV, SARS, Influenza, Herpes, Hepadna). The radial symmetry of the doily form is conflated with that of the enveloped virus structure. The project explores the "domestication" of microbial and biomedical imagery in the quotidian landscape. Bio-terrorism, health epidemics, and anti-microbial products alike have heightened our awareness of the microbial world. The project materializes the notion that an heirloom artifact can manifest the psychological heredity of cultural anxieties.
©2004 Laura Splan
Project support provided by GenArt New Media Art Exhibition.
Host
PROJECTS: Viral Artifacts
2014
SCULPTURES: hand-built ceramics (porcelain paper clay), laser sintered polyamide nylon stained with blood
DRAWINGS: graphite, blood on Arches archival watercolor paper
Host attempts to materialize experiences of coming to consciousness about HIV and AIDS while coming of age in the 1980's in the suburban South. The sculptures and works on paper embody a desire to resolve fears of the emerging health pandemic with notions of "Southern hospitality" and the "gracious home". The work draws on personal memories of AIDS arriving as an unexpected guest at our quaint home and quietly announcing itself in hollowed cheekbones, sunken eyes and Kaposi lesions.
The sculptures and works on paper interrogate notions of hospitality and domesticity as they are undermined by biological realities and a changing sociopolitical landscape. Doily forms obscure underlying renderings in the works on paper by using vintage plastic doilies as stencils. Referencing the domestic use of doilies to hide a scratch or stain on furniture, the drawings create a tableau of biomedical images that are camouflaged by the decorative doily form. The sculptures combine delicate porcelain forms with more rigid 3D printed elements stained with blood. The objects simultaneously evoke the fragility of the human body with the tenuous nature of social decorum. Biomedical forms are at odds with more decorative ones. Visceral drips disrupt lacy patterns. Discomfort disrupts comfort.
©2014 Laura Splan
Commission for Re/Presenting HIV/AIDS, Van Every/Smith Galleries, Davidson, NC / Photography by David Ramsey.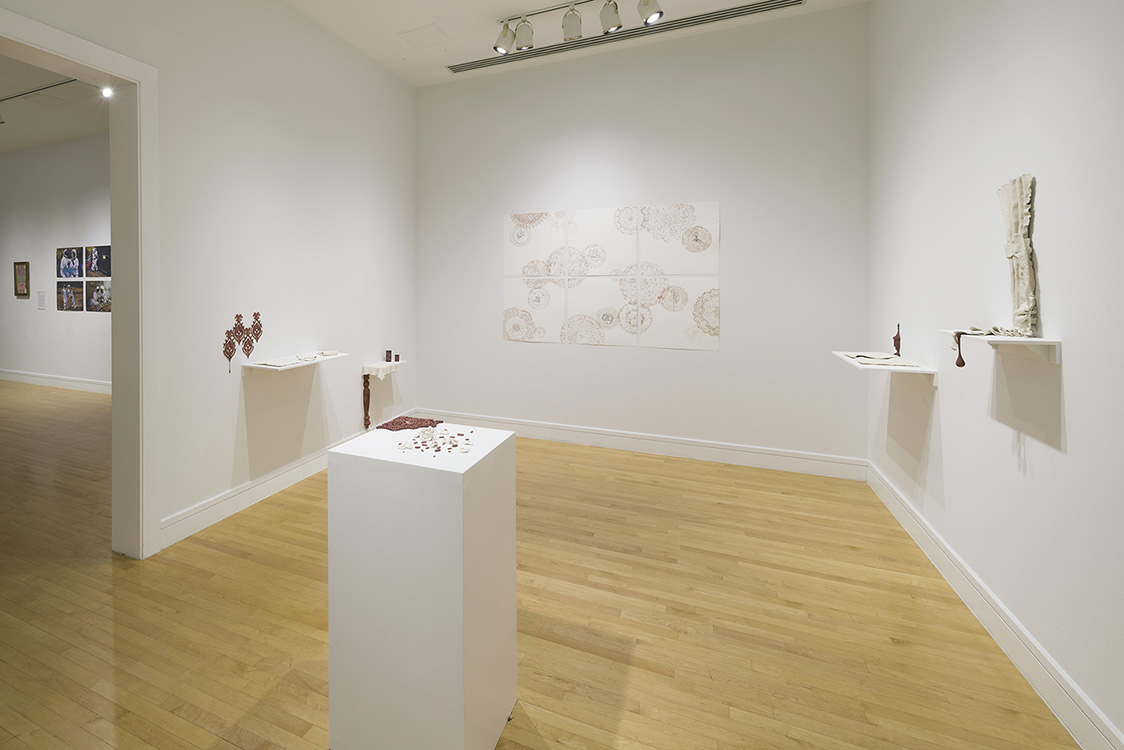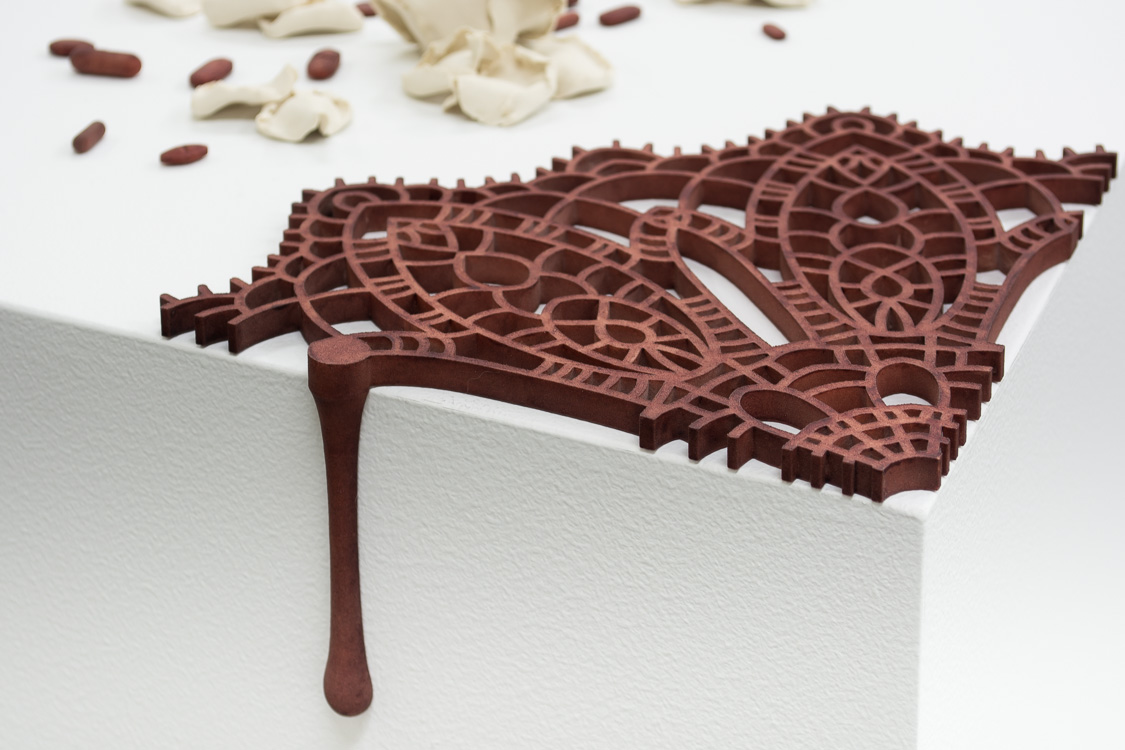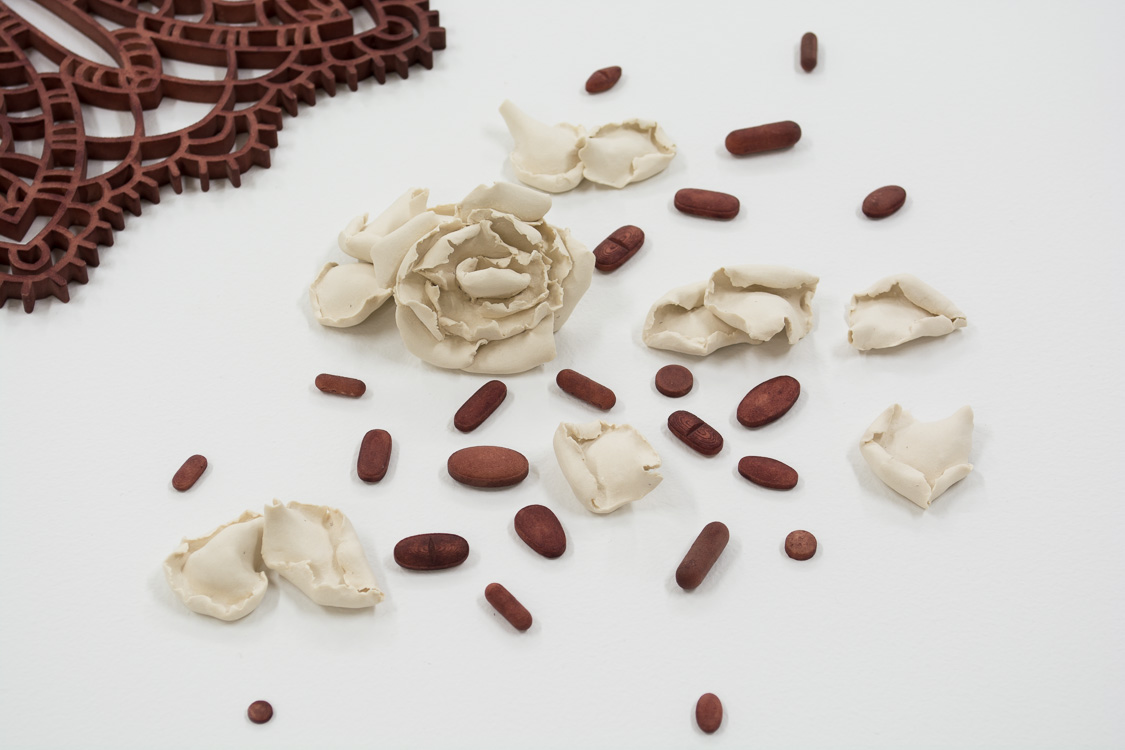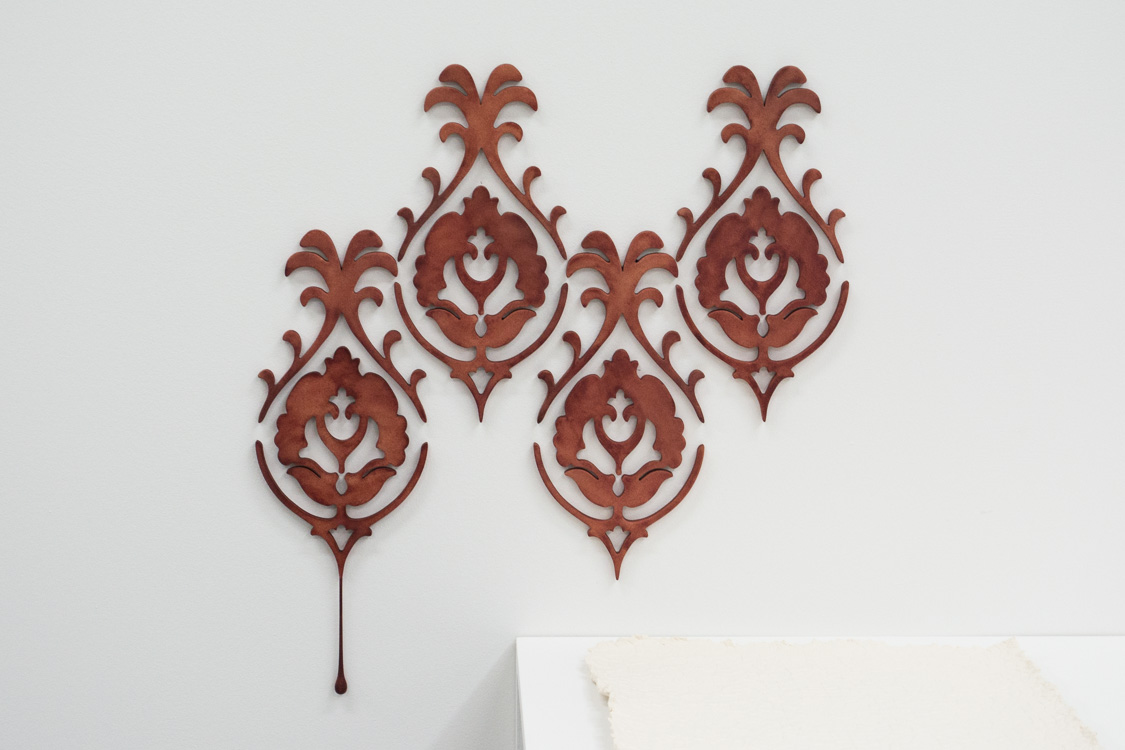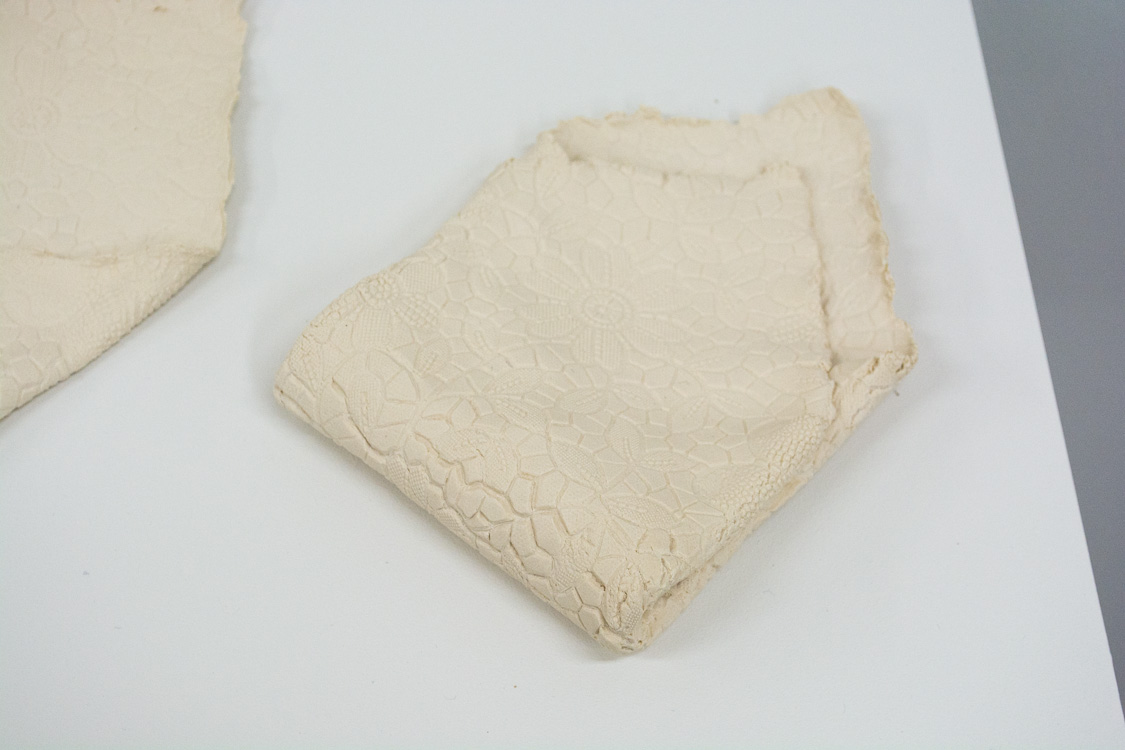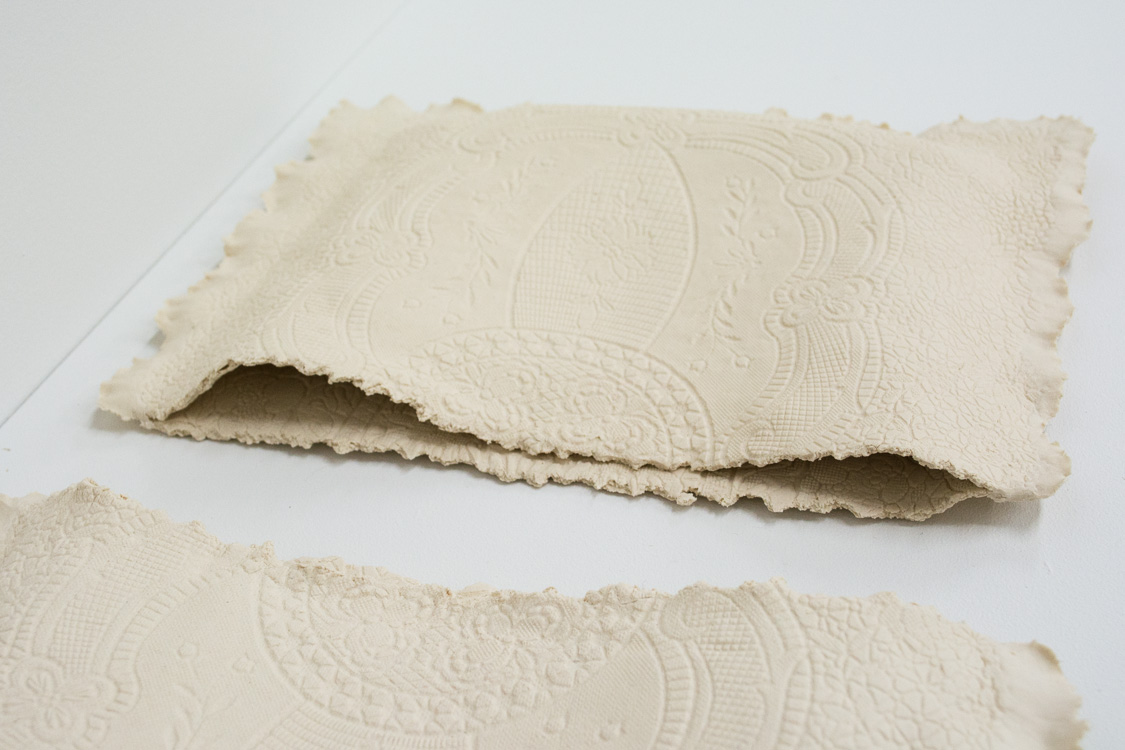 Surface Tension
PROJECTS: Viral Artifacts
2011
graphite and soap residue on claybord
18"H x 24"W x 2"D each
Surface Tension alludes to the invisible worlds that are at play as we wash our hands. Drawings of hands and microbes underlie a latent image of bubbles rendered in foam hand soap. When applied to powdered graphite, the soap bubbles distribute the graphite in and around their own shapes. Once dried, the shape of each bubble is rendered in the graphite and soap residue. Each of the paintings depicts hands in a different position of hand washing as recommended by the World Health Organization. Renderings inspired by bacterial and viral microbes surround the hands.
©2011 Laura Splan
Commission for "Watching Hands", CDC Foundation in association with the Smithsonian Institution, Atlanta, GA